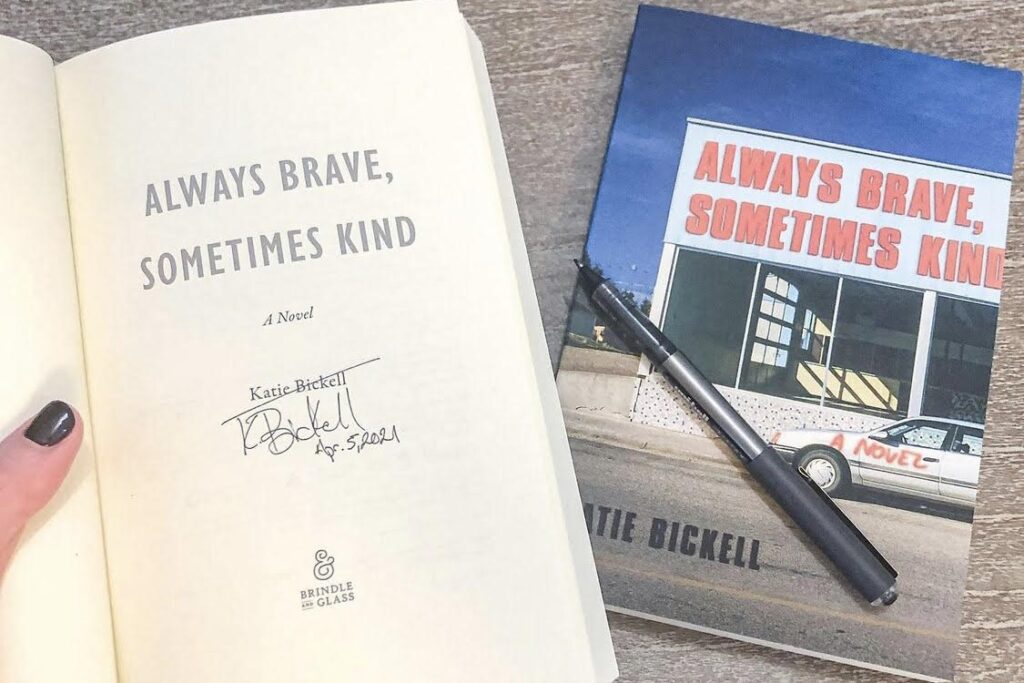 It may or may not surprise you to know that I keep books stashed all around my house. Georges Bugnet's translated novel, "The Forest," hides beside my front door, because that's probably where it wants to be – as close to outside as possible.
I first read and reread (and reread) Bugnet's book in college. I marked almost every page with a highlighter and/or pen. I loved the characters and delved into the psychology behind their development. The novel is a tragedy, almost a ghost story, the Forest playing villain, opponent, steadfast victor.
A big reason why I was so enchanted by the novel was because the book takes place in Athabasca – or, at least, in Alberta's boreal – and, as a (immigrant) child of Northern Alberta, it was the first time I'd seen my adopted home reflected in literature. As I wrote my book, Always Brave, Sometimes Kind, I felt it was important to continue that story. When it was once suggested my book might enjoy more success if not so regionally placed, I was adamant: I wanted to write about home.
What an honour it was to learn earlier this month that ABSK has been shortlisted for The Alberta Literary Award's Georges Bugnet Fiction Award. I couldn't be more delighted to have placed a book in my name as a finalist to an award bearing his.
The Writers' Guild of Alberta's jury deliberated over 250 submissions, narrowing down to 30 finalists in its ten award categories. The list represents some of the incredibly talented Albertan authors who published a book in 2020. As I shared with ABSK publisher's Touchwood Editions for their April 9th blog, I am so proud to represent Alberta in my work, and to be in the company of such inspirational storyteller's from across the province.
The shortlist announcement was made on April 8, with the final announcement planned for mid-June.
Interested in reading Always Brave, Sometimes Kind, for yourself? Purchase your copy from local Albertan retailers, including Creative Goods & Co., Kreative Kustoms, Audrey's Books, Glass Bookshop and Owl's Nest Books.
Already have your copy? You can receive a free, signed bookplate by entering your email address here. And join me, alongside fellow ABSK readers, for two upcoming author reading and Q&As: one at Warburg Library on April 20, and the other at High River Library on April 26.
---
Set in the cities and rural reaches of Alberta, Katie Bickell's debut novel is told in a series of stories that span the years from 1990 to 2016, through cycles of boom and bust in the oil fields, government budget cuts and workers rights policies, the rising opioid crisis, and the intersecting lives of people whose communities sometimes stretch farther than they know.
We meet a teenage runaway who goes into labour at West Edmonton Mall, a doctor managing hospital overflow in a time of healthcare cutbacks, a broke dad making extra pay through a phone sex line, a young musician who dreams of fame beyond the reserve, and a dedicated hockey mom grappling with sense of self when she's no longer needed―or welcome―at the rink.
Always Brave, Sometimes Kind captures a network of friends, caregivers, in-laws, and near misses, with each character's life coming into greater focus as we learn more about the people around them. Tracing alliances and betrayals from different perspectives over decades, Bickell writes an ode to home and community that is both warm and gritty, well-defined and utterly complicated.
Amazon.ca / Audreys Books / Indigo / Amazon.com / Bookshop.org / Barnes & Noble / Blackwells