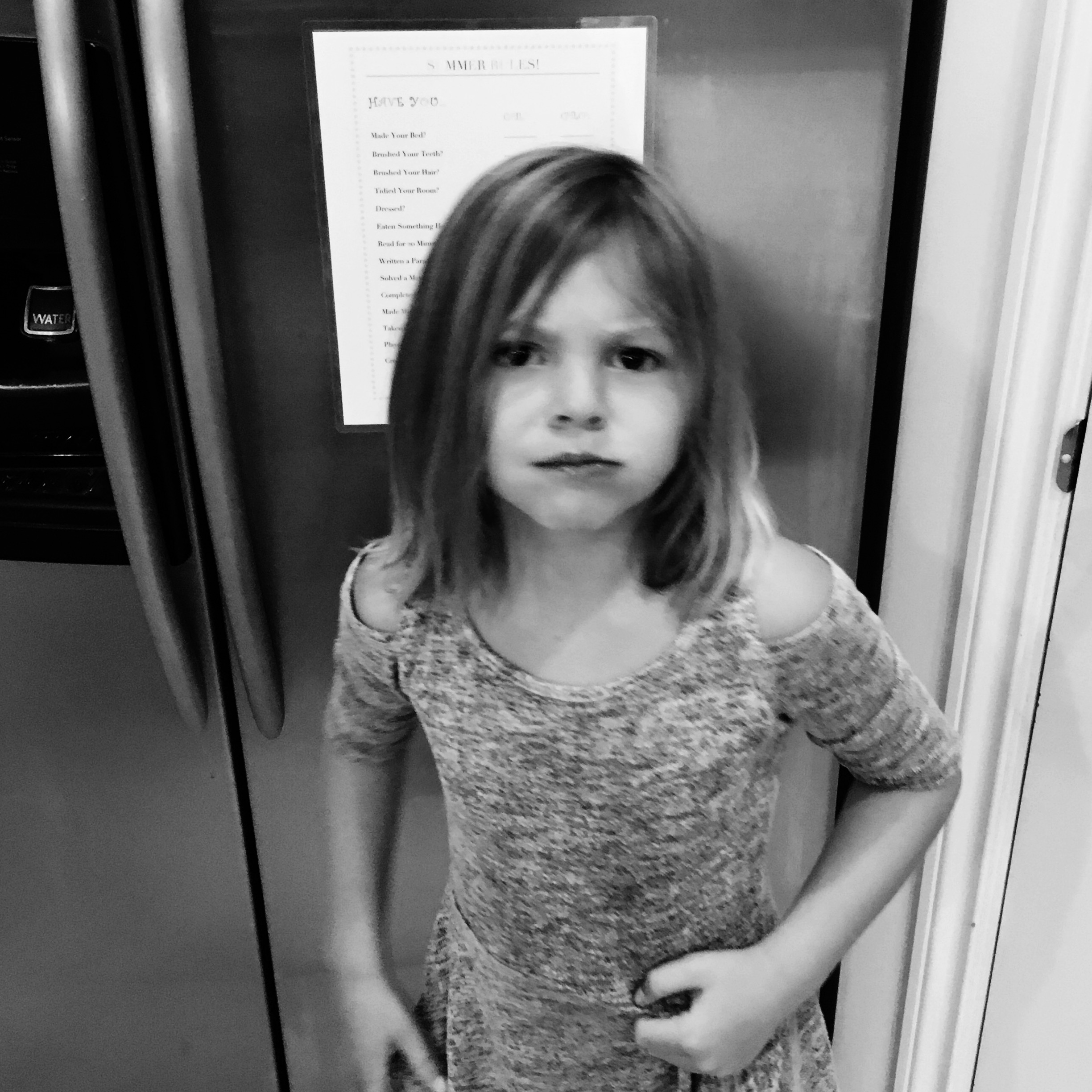 When anxiety lets me stop stressing about strangers and mean dogs and a freak gusts of wind blowing my bicycle-riding children off of the sidewalk and into oncoming traffic, I relax by worrying about two things: their sugar intake, and screen time. I feel quasi-okay about my efforts around the sugar thing, but as summer vacation is fast approaching, I've been increasingly concerned that my two will spend sunny days huddled in blankets around the glow of the television binging on Netflix's Nailed It! before yelling, "Mom! Can we have cake?"
Or, more accurately, I'm concerned for my own vocal cords: I know my voice will only make it into week two before it gives out from calling downstairs a billion times: "TURN OFF THE T.V!"
I'm neither a scary authoritarian nor wishing to remove my offspring from mainstream media consumption to an off-grid cabin in the woods, it's just that I know (from science, and my own Netflix binges) how damaging too much screen time can be. Once in a while, we all need a lazy, do-nothing day. But kids aren't great at once-in-a-while. And too-frequent use of electronics has been linked (both scientifically and common-sensically) with childhood obesity, depression and anxiety, social alienation, and a bunch of other not-fun stuff. I want my kids to have health and peace and friends and sunshine on their faces this summer, and I don't want to have to fight them from June to September.
So, after perusing other parents' solutions on Pinterest, I think I've come up with one of my own. I wanted to share it here in case you guys are pondering the same concerns. It's our family's Summer Rules!
Here's how they'll follow the chart (I hope. We're only human over here, after all):
I want the kids to experience summers how we did – lazy and meandering, creative and wild, free and easy. So they don't have to follow this list in any order. They don't even have to finish this list every day. For example, if one decided to 1) Get Dressed, 2) Brush Teeth, 3) Take a Walk, and runs into a friend who wants to set up a lemonade stand, I'll say: "Awesome! Have fun! Your unbrushed hair brings shame to our family but I love you anyway!"
She wouldn't need to come home and write a paragraph or make music or play with a pet first. But, if she returned from that lemonade stand and asked to turn on the boob tube, I'd say: "Sure… if your list is complete." And then I'd cackle while tapping my fingers together, Mr. Burn's style.
And she'd roll her eyes and probably slam her bedroom door but you know what she wouldn't do? Watch a screen. A) because there are no screens in her bedroom, and B) because her list isn't finished. So she'd either have to play legos (Create Something), or Read, or Tidy Bedroom, or just plain Fume at Mom (not on the list but totally allowed, especially if she invites her sister. A lot of great sibling bonding happens over discussions of how dumb parents are.).
On days when one or both of my children truly, sorely, simply must have screen time, they'll have to check off all of their list first. Then: Go hard, Kid! Enjoy that screen time! Although, in my experience, once a child starts doing something like taking a walk or playing with a pet or making music, they're likely to get pulled into activities more creative and wholesome and fun than standard preteen programming. And if they don't? Well, my mind will rest easy knowing that even if they do spend an afternoon vegging out, they earned it with a couple of hours of self-care, house-care, brain-care, pet-care, and creativity. Win/Win!
What do you think: Worst Mom Ever (there have been two votes cast for this camp already), or Good Idea?
If you're thinking "Good Idea," I've included an image your family can use too. Just click "save image" and print it out, laminate it (I used Staples), and stick it on the fridge. No screen-time screaming for you, my friend.
Happy Summer! And tell me in the comments, what would your Summer Rules list include?